Urban Prefer based on our vision of life aesthetics and urban culture, we provide consumers with an innovative and unique user experience.
We do not aim to impress users with visually dazzling displays and complicated features. Instead, we take simplicity and the life sphere as our starting point in the pursuit of simple and practical designs that gives users a pleasant sensory experience.
In the context of our busy urban lives and the large number of industrial products at our disposal, many products only satisfy short-lived functional demands. Urban prefer on the other hand, cares more about the interaction between the user and the product than functional specifications.
Restless urban travelers need to be exposed to positive vibes for a certain time before they are able to sense them.
Similarly, certain cultures require closer scrutiny to be fully understood. We sometimes need to slow down to digest certain emotions and tenderness requires deliberate consideration to become palpable. Likewisethe starting point of life aesthetics is a focus on every little detail in our daily lives.
As a consequence, all of our designs originate from precious fragments of our daily lives that our designers observe and incorporate into their work.
These fragments finally turn into simple, toned-down, and practical designs that enrich every moment of your lives.

At Mustard, our designs are about one thing; fun! From egg moulds to paperclip holders, pencil toppers to cup warmers, our product range always puts our 'live happy' motto at the forefront – cool gifts designed to put a smile on your face.
All this living happy makes the team at Mustard a creative little bunch; beavering away from our HQ in London –no doubt working on our next unstoppably brilliant idea.
With offices in Paris and New York too, the Mustard Team live and breathe cool gift ideas – seriously, we live for this stuff – we're on a mission to elevate the everyday. We're so committed to great gift ideas that we often find ourselves continuously mining at the coalface of design-led cool gifts; we won't stop until every single idea nugget has been polished up and transformed into a quality Mustard product (or abandoned, I mean not all our ideas can be gold – we're only human after all).
Don't take our word for it though; take a look around; whether you're after some fun stationery, tech gifts or maybe something for the home or kitchen – we've got you covered. In-fact, we're so confident that you'll find just the right gift for the right person because our cool gifts are made purely with our customers in mind – so if you know someone whose desk could do with brightening up, or fancies adding a touch of colour to their kitchen, trust us, you're in the right place.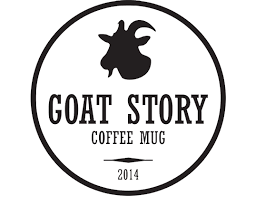 GOAT STORY discovers how coffee was made and revolutionizes the way coffee will be consumed in the future. If you love coffee, it will change your life!
The story goes back in 13th century, when a flock of goats found a bush full of berries which lured the goats to dig in and try them. The result: goats went completely bonkers! Their shepherd was left in shock so he decided to figure out a way of using those berries to get such frisky energy. He brewed the berries and – we dare say- changed the world.
We couldn't imagine life without coffee which is why we decided to stop hunting a perfect coffee mug and design one of our own. Ours is dedicated to those who unfairly didn't receive any credit for their discovery – goats. This is the GOAT STORY. And it was crafted into a one of a kind coffee mug, which shape is reminiscent of goat´s horn but it is also ergonomic and makes drinking easier. It is upgraded by a set of two straps. One is a cross body strap and the other one fits any wrist. That way, your hands remain free in between sips at any time. GOAT STORY coffee mug can be placed on a flat surface in a matter of seconds. Just take the handle of, turn it around and place the mug in it.
GOAT STORY coffee mug is made from 100% eco materialsand can be fully recycled. It is BPA FREE and dishwasher friendly. It will keep your coffee hot for as long as two hours.
The GOAT Mug was successfully funded on Kickstarter. The GOAT Mug - Bringing Style To Coffee Drinking. Since 2014.

Morgen Design is a young design team,designers have several years work experience in well-known design office such as Porsche Design , AUDI AG , Philips design Group. Morgen Design are good at grasping consumer's emotional demand to the product, not only in the product aesthetics , achieves perfection in the user experience. Morgen Design gave the users unforgettable use experience.

Design is a process of understanding the perception of the objects, people and the world. White Design seek to transform this understanding into a creative product.
White Design brand philosophy is based on the instictive creative and motivated by ambition to change the world. White Design's products are well beyond expectation and was showcased in its purest form.